Important strains - the building of the Theo Weytjens long distance loft
Harinck-Poelmans (Genk BE) and Nouwen-Paesen (Grote Brogel BE)
The leading thread through the actual (2012) colony is the strain of Harinck-Poelmans and by extension the Nouwen-Paesen bloodlines.
The outline shows it better than words can do.
Click on the pigeons for a full pedigree.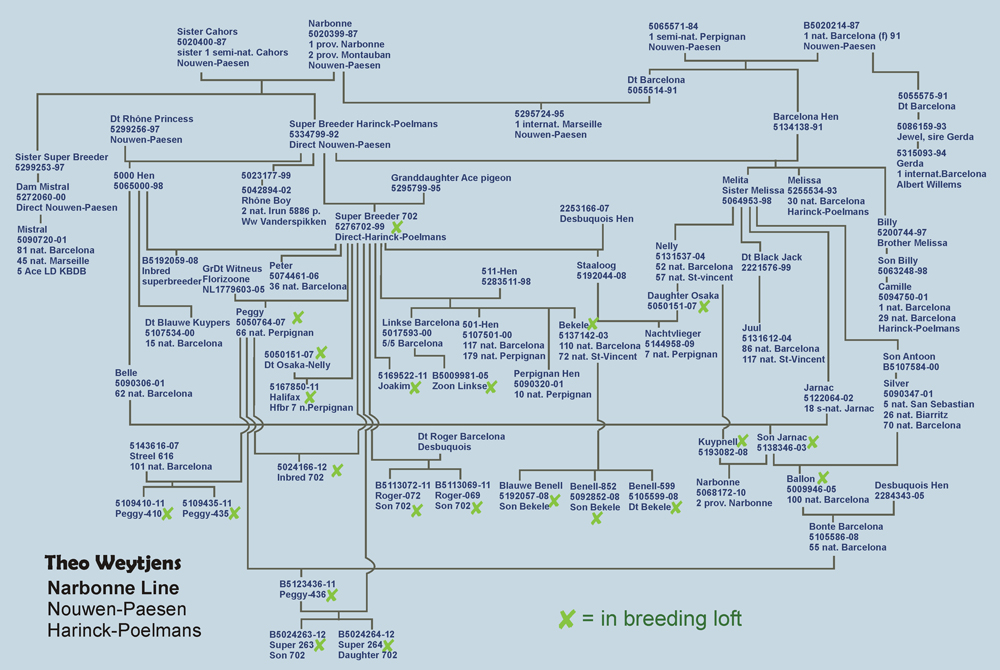 van der Wegen (Anton and Lucie), Steenbergen (NL)
van der Wegen (Jac), De Heen (NL)
Van der Wegen was first imported via Fons van Ophuizen, but later on some pigeons came directly from the loft of Anton and Lucie van der Wegen.
Fons van Ophuizen being a good friend of Jac van der Wegen, he got children out of the best racers and breeders in de Heen: Prins, Indurain and so on.
Theo got three good van der Wegen pigeons via Fons:
NL2467437-95, granddaughter Prins
NL2467474-95, grandson Indurain
NL2467482-95
The last two are grandparents of the 511-Hen which gave a series of good pigeons such as: Bekele, Perpignan-Hen, 501-Hen, Linkse Barcelona
In 1996 and 1999 Theo Weytjens went visiting Antoon and Lucie van der Wegen in Steenbergen. There he got:
NL9696934-96 and NL9696937-96 who are the parents of Anouk, 6 Nat. Saint-Vincent
Kuypers Brothers, Neer (NL)
In 1997 and 1998 three direct Kuypers were imported.
NL1854538-98, Blauwe Kuypers, a grandson of the famous 515 hen
NL1854530-98, out of a sister of the Pau Hen
NL1929240-97, Geschelpte Kuypers, an inbred to the Barcelona Super Pair
The diagram tells it all. Click on the Weytjens pigeons for more info.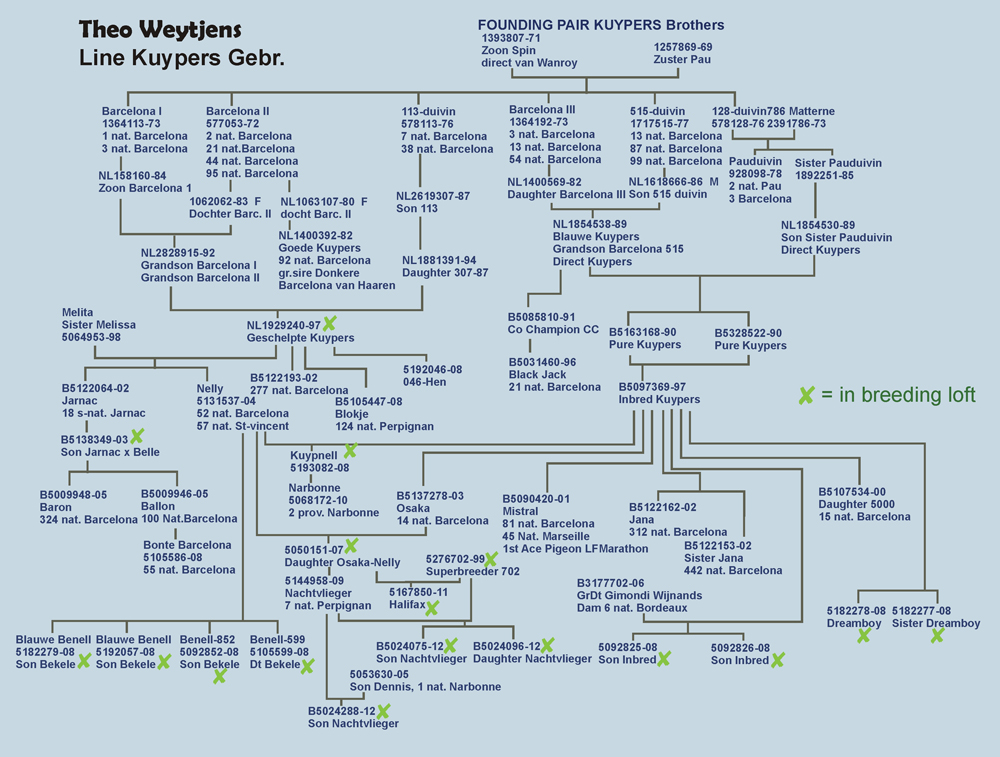 Donkere Barcelona van Haaren
One can hardly imagine a better Barcelona racer than the Donkere Barcelona of Anton van Haaren.
From Barcelona he won 28, 71, 71, 327, 765 nat. (in the Netherlands)
He also won 86 and 100 nat. Perpignan.
His pedigree shows that his bloodlines are mainly van Wanroy, Kuypers and Aarden.
After his racing carreer he became an important stock bird for First Prize Pigeons.
Theo Weytjes acquired a son and a grandsonr of the Donkere Barcelona.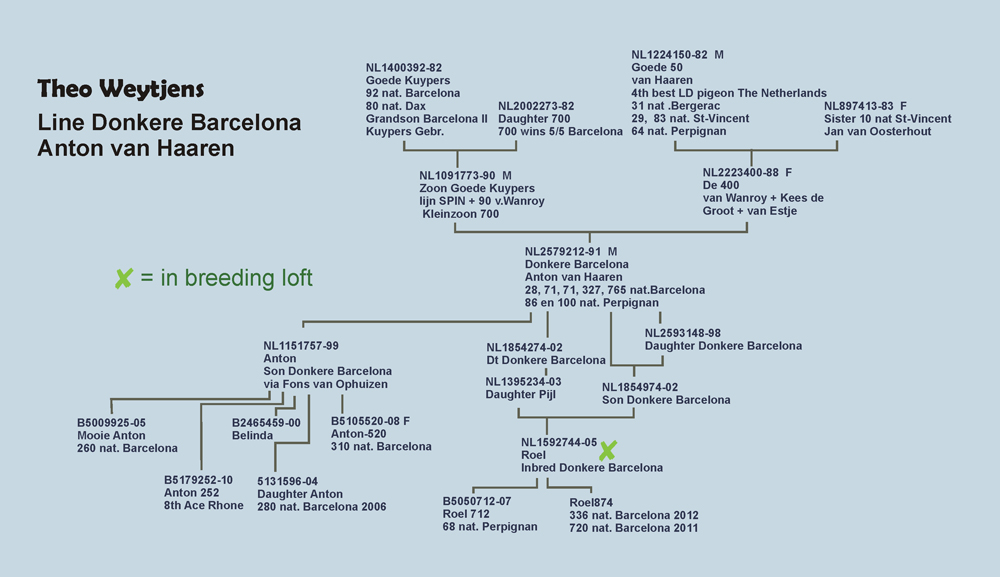 Streel Edmond and Freddy (Vreren BE)
In recent years there was a lot of import of Streel pigeons. Especially 2 exceptional pigeons took the interes of Theo Weytjens
- B5276503-97 Primus inter Pares (a.o.73 nat. Barcelona)
- B5157565-02 Dennis, 1 nat. Narbonne 5963 p., 9 prov. Cahors
Some pigeons Weytjens imported from Streel:

B5053118-05, Prima Donna, Daughter Primus inter Pares Streel
She is the dam of B5105478-08 Rambo Jr 16 Nat. Perpignan
B5213248-04, Brother Dennis
B5053194-05 Son Dennis, Son 1 nat. Narbonne
B5140393-06 Son Dennis
B5140394-06, Madeleine, Daughter Dennis
B5151391-08, Son Dennis
B5162318-10, Son Dennis
B5086910-04 Daughter Asduif ZO
B5122680-09, Halfbrother Barcelona, Grandson Dennis
Albert Willems-Wynants (Eisden-Maasmechelen BE)
Berke Willems is a good friend of the Weytens family. He contributed substantially to the arrangment and construction of the splendid lofts and aviaries.
But more importantly his pigeons are introduced to support and broaden the successful long distance bloodlines.
Desbuquois Brothers (Kapelle-o/d-Bos, BE)
B2284343-05, Sproet Desbuquois, daughter Lissa 89 nat. Barcelona
Dam Bonte Barcelona
B2092294-08, Halfsister Roger Barcelona
B2259265-00, Zwarte Michel, son Thalys 37 nat. Barcelona
B5183807-09, Granddaughter Roger Barcelona via Albert Willems
Fons van Ophuizen
Theo Weytjes introduced tens of pigeons from Fons van Ophuizen. At least 10 of them got a positive impact on the breeding of good racers for the long distances.
NL2835269-92, Son Super Pair Batenburg
NL2024164-94, son Zwarte Perpignan, line Vervisch. Zwarte Perpignan won 19 &27 nat. Perpignan and 169 nat. Barcelona. He was a son of B85-3285641, Brother 1 int. Barcelona 1985 of Jozef Vervisch, Kortrijk. Strain was Vanbruaene and Stichelbaut.
NL2068896-94, Son Brother Barcelona Vervisch, halfbrother Zwarte Perpignan
NL2467474-95, Grandson Indurain Jac van der Wegen
NL2467475-95, Granddaughter Indurain Jac van der Wegen
NL2467575-95, Grandson Zwarte Marseille, sire of B5031460-96 Black Jack 21 nat. Barcelona
NL2467576-95, Son Zwarte Rennenberg, sire of the B5283511-98, Zwarte 511 breeding hen.
Frits Rennenberg, Bingelrade, had Aarden pigeons in the line of 131 Jan De Weert and Aarden II of van de Burg Maasdijk.
NL1151757-99, Son Donkere Barcelona Anton van Haaren
NL1779603-05, Granddaughter Witneus Florizoone
NL1779648-05, Inbred Florizoone
NL1752777-05, Bontje Seegmuller
NL1779468-05, Granddaughter Kleine Didi, dam of Debbie 57 nat. Barcelona
She is nestsister of "Didi duivin", dam of Bekske, 39 nat. and 128 nat. Marseille for Fons van Ophuizen.
NL1779627-05, grandson Rambo Barcelona, 97,159,173,394,550 nat Barcelona for van Ophuizen
Also grandson of 1 nat. Barcelona Florizoone